Virginia Highland Summerfest 5K Road Race

About the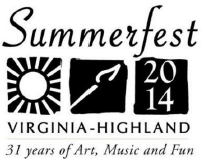 Race
Name: Virginia Highland Summerfest 5K Road Race
Distance: 5K - Tot Trot
Date: June 7, 2014, 8:00 a.m.
Location: Atlanta, GA - Virginia Highlands
Commemorative Summerfest 2014 100% T-shirt to all runners.
NO RACE DAY REGISTRATION

About Summerfest:
Join in the excitement of the 31st annual Virginia-Highland Summerfest. The festival is
a non profit event with proceeds donated to neighborhood projects: park improvements, landscaping, public libraries & more. Highlights of Summerfest include: the artist's market
with over 200 national artists, live music, food market, Kid's Fest and the 5K Road Race &
Tot Trot. Each year over 50,000 visitors attend Summerfest for one of the most memorable
weekends of the year. .
Celebrating 31 years of art , food and fun. Don't miss the party after the race at the Summerfest Festival with great bands, good food and adult beverages.

Widely considered the best festival and neighborhood road race in the Atlanta area.
Virginia Highland is the place to be on the this first weekend in June every year.
Contact
Ed Williams (404) 327-7738 or roadraceservices@comcast.net
Schedule
Early Packet Pick Up (pick up race number and tshirt at the following locations before the race:
- Phidippides at Ansley Mall - May 30, May 31, June 2, June 3
- Virginia Highland Church, June 6 - 4:30pm - 7:30pm
June 7
- 6:30 a.m. - Packet pick up
- 8:00 a.m. - 5K Run/Walk. - ELECTRONIC CHIP TIMING!
- 9:15 a.m. - Tot Trot.
Registration - NO RACE DAY REGISTRATION
- download mail race entry.
- online at active.com
- in store at Phidippides Ansley Mall - 404-875-4268
Registration closes at 1600 participants or May 20, whichever comes first. Do not mail registrations after May 10 – will be returned.
Rain or shine - no refunds.
Entry Fees
- 5K - $27 if postmarked or registered online by April 1; $32 thereafter.
- Tot Trot - $10 (ages 5 & under) - mail-in registration or online by May 10 and on race day
*All participants in the 5K and Tot Trot will receive the 2013 Virginia Highland Summerfest 100% cotton t- Shirt.
Tot Trot for youngsters ages 5 & under near the musical stage at Inman School.
Tot Trot race day registration available at the Inman School at 8:00 am

Early Packet Pick-Up! Pick up your race number and t-shirt at the following locations before the race!
- Phidippides at Ansley Mall – May 30, 31, June 2, June 3 (for hours: www.phidippides.com)
- June 6 at Virginia Highland Church: 743 Virginia Avenue NE, Atlanta GA 30306 - 4:30pm - 7:30pm
- Race Day: N. Highland & Virginia Ave,1017 N. Highland Ave, Atl, 30306 6:30am-7:30am (is for Out of Town Runners and emergency situtations)
Location/Course
VIEW RACE COURSE - click here
5K Race starts 8am near intersection of Virginia Ave and N Highland Ave (across from Standard Station). Course runs through scenic neighborhood and ends near John Howell Park. Tot Trot: following the 5K Race and starting at 9:00am Saturday, children aged 5 and under run, waddle or crawl to the finish line of the Tot Trot held in the Inman Middle School field at Greencove & Virginia.
NEW THIS YEAR: ELECTRONIC CHIP TIMING!
Awards
Unique picture plaque awards to Overall M & F, Masters M & F, and 3-deep each age group 10 & Under through 70 & over in 5-year increments. Gift cards from Phidippides for Overall & Masters M & F winners. 100% cotton 2013 Virginia Highland Summerfest t-shirt.
Extra: 10% discount on shoes and selected items at Phidippides with Summerfest race bib!
TOT TROT AWARDS: Tot Trot participants receive ribbons & T-shirts.
Race Sponsors
A big thank you to all of our sponsors for making this event possible.
Race Results

---